She has an older brother and sister.[1]

One of her nicknames is Bbocutie.[1]
Her ideal type is Captain Yoo Shijin.[1]
Her motto is "It's meant to be, let's be happy."[1]
Her habit is chewing on things (lips, fingers etc.)[1]
Her current interests/concerns are nutritional supplements, skin, sky castle and comeback.[1]
She would describe herself using the hashtags #WJSNSexyOneTop, #FemmeFatale and #BboCutie.[1]
She has really good aegyo.
She is close with APINK's Namjoo, CLC's Yujin, BTOB members and TWICE's Jeongyeon.[citation needed]
She forgot the Daegu dialect.[citation needed]
She says that she looks exactly like her mother.[2]
Japanese netizens picked her as the third prettiest member of a third generation girl group.[3]
She trained with BTOB.
In the introduction for My Cosmic Diary, she was introduced as "Heart attack, always so pretty, Bona".
She would liken herself to a rose.[4]

Her favorite Baskin & Robbins' flavor is Mint Choco.[5]
She would like to appear on the Korean variety show Secret Unnie with Irene of Red Velvet.[7]
She is Cosmic Girls' selfie-fairy.[8]
If she was stranded on a desert island she would bring Eunseo because she would feed her and make sure that she lives. She would not bring any of the other younger members because they would not be of any help.[9]
She is a certified scuba diver.[10]
References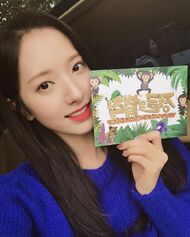 ↑ 1.0 1.1 1.2 1.3 1.4 1.5 1.6 Bona's Weekly Idol Profile. cr. kimbully0819 Retrieved January 20, 2019.
↑ 180926 fansign - Q. What flower would you liken yourself to? cr. wuju99 Retrieved September 27, 2018.
↑ 180922 fansign - Q. What's your favorite Baskin Robbins flavor. cr. kimbully0819. Retrieved October 1, 2018.
↑ 180930 fansign - Q. What are the pros and cons of Bbocutie's roommate?. cr. kimbully0819. Retrieved October 3, 2018.
↑ 181013 fansign - Q. If you went on Secret Unnie, who would you want to do it with?. cr. wuju99. Retrieved October 13, 2018.
↑ 8.0 8.1 After School Club (Ep.203) WJSN. Retrieved October 29, 2018.
↑ 181013 fansign - Q. if you went to a deserted island, which members would you bring and not bring? cr. wuju99 Retrieved October 30, 2018.
↑ Bona's Instagram post featuring an image of her scuba diving licence. Retrieved December 22, 2018.
Community content is available under
CC-BY-SA
unless otherwise noted.