She has an older sister.[1]

Her nicknames are Moomin and Weepinbell.[1]
Her ideal type is Ujung.[1]
Her motto is "Let's do what we want!"[1]
Her habits are touching her bangs and crouching.[1]
Her current interests are La La Love, Cosmic Girls, Ujung, sleep and music.[1]
She would describe herself using #MoominStagram, #SeolStagram, #RedStagram and #CoffeeStagram.[1]
She is a member of Y-Teen which is the Starship unit with Monsta X along with EXY, Soobin, Eunseo, Cheng Xiao, Yeoreum and Dayoung.[2]
She represents the zodiac sign Sagittarius in the group, despite her zodiac sign being a Capricorn.
She was originally part of the pre-debut team VIVA GIRLS along with EXY, HELLOVENUS' Lime, Nine Muses' Kyungri and Dalshabet's Woohee.[citation needed]
EXY has said that she thinks SeolA is not good at aegyo, but SeolA says she is.[citation needed]
She was a fan of SISTAR and went to one of their concerts in 2015.[3]
She is afraid of water.

If she was a boy she would date Cheng Xiao.[4]
In the introduction for My Cosmic Diary, SeolA was introduced as "No way, really? SeolA".
She is known as the dad of Cosmic Girls.[5]
SeolA trained for around 7-10 years before debuting.[citation needed]
She was in a Just Dance 2 CF with TWICE's Jeongyeon and Nayeon.[6]
The members say that she looks like her mother, but she disagrees.[4]

She has started learning how to write lyrics, and would like fans to hear her songs.[7]
She would liken herself to a rose.[8]
Her family calls her Hyungdong.[citation needed]
She often posts covers on social media.
References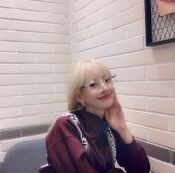 ↑ 1.0 1.1 1.2 1.3 1.4 1.5 1.6 SeolA's Weekly Idol Profile. cr. kimbully0819 Retrieved January 20, 2019.
↑ Monsta X and WJSN 14 Member Project Group "Y-Teen" Lineup. Kpopmap Retrieved September 27, 2018.
↑ SeolA with a ticket to a SISTAR concert. Retrieved December 21, 2017.
↑ 4.0 4.1 WJSN's Private Life on Heyo TV Ep. 1 Retrieved August 31, 2018.
↑ SeolA's "MoMoMo" profile. Retrieved August 1, 2018.
↑ Jeongyeon & Nayeon Nintendo Wii Just Dance 2 CF. Retrieved October 27, 2018.
↑ WJSN Talks About Efforts Behind This Comeback, Teamwork Of 13 Members, Growth, And More Soompi Retrieved Septemer 27, 2018.
↑ 180926 fansign - Q. What flower would you liken yourself to? cr. wuju99 Retrieved September 27, 2018.
↑ After School Club (Ep.203) WJSN. Retrieved October 29, 2018.
Community content is available under
CC-BY-SA
unless otherwise noted.